A Welcome from our Parish Priest
I am delighted to be part of your parish and will try my best to meet your expectations, so please feel free to share with me your wishes for your school and parish.
Life is a journey and as Christians we have all the same end in our journey – eternal life with God. Let us help each other on this journey as we all belong to God's family.
May St Gerard protect and guide us.
Your parish priest,
Fr Mathew Pinakkattu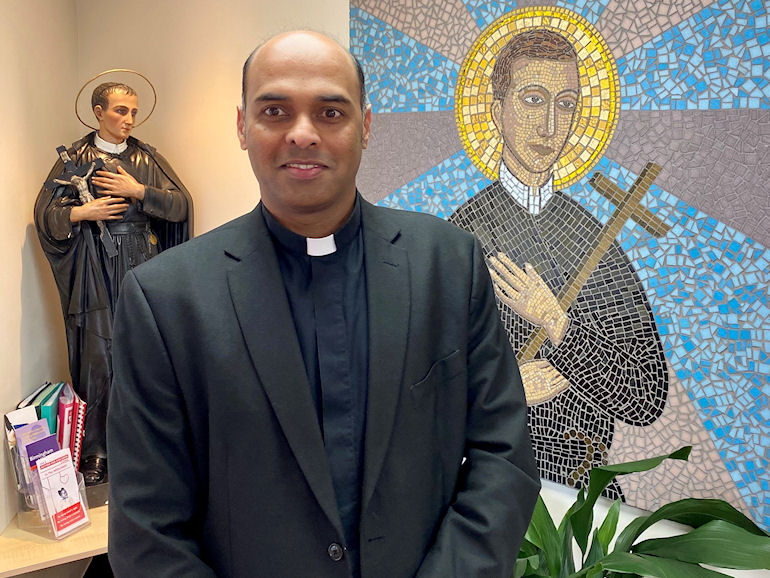 Saint Gerard's Church
St. Gerard's Church is situated on Yatesbury Avenue next to St. Gerard's Catholic Primary School.
Before the church was built, during the 70's, Mass was originally celebrated in the Parish centre. Even though it had encountered much financial debt, the church was granted permission from Archbishop Dwyer to proceed with the building in the spring of 1980.
The Blessing and Opening of the Church was led by Bishop Leo McCartie, 22 December 1981 in the presence of our first Parish Priest Fr Harrington.
Fr Michael Knight became the second Parish Priest and remained in this position for over 35 years. Our green tower was a project that he was extremely proud of. He will always be remembered as someone who dedicated his life to serving others.
All debts of the church were finally paid off during Fr Knights time as Parish Priest and on 21st June 2001, the church was consecrated by the Most Rev Archbishop Vincent Nicholls.
Those of you who remember John Paul II's visit to Coventry in 1982 will have your own memories of the day of this momentous occasion. Here at St. Gerard's, we have our own very piece of history from that day, because the altar (well, half of it at least) has graced our church for the last 30 years. It continues to be the focus of all of our masses and we feel a great sense of pride that this spiritual and historic altar forms the centrepiece of our church.
See more on St Gerard's Catholic Church website
Mass Times
Sunday Masses – as announced in church newsletter
Weekday Masses – as announced in church newsletter
School Masses – usually weekly on a Friday
Confession – Sunday 9.30 to 9.55am
We have adoration for one hour prior to the Holy Mass every day
Holydays – as announced in Bulletin
School Masses
Fr Mathew celebrates whole school Masses and class led masses regularly throughout the year in church. He also leads Masses or prayer services, which are more intimate and are sometimes celebrated in the classrooms. The church can also be used to help deliver the RE curriculum, when visiting a church and looking at religious artefacts as part of a lesson.
As a Catholic School we strive to work in partnership with the Parish and the Church. St. Gerard's school is based upon the values and beliefs of the Catholic Church. This religious ethos of our school is found across the whole curriculum and not just within the Religious Education (RE) timetable.
The fundamental aim of the school is the Christian growth of the children, not simply their growth in their own faith but their growing awareness of the world as maturing Christians. As a pupil of St. Gerard's School, all children will develop a knowledge and understanding of the Catholic faith and traditions.