Saint Gerard, our school saint, has his feast day on 16th October.
Gerard was born in Muro, Italy, on 23rd April 1726, the youngest of five children. He trained as a tailor for four years following in his father's footsteps. Then he became a servant for the local Bishop. He shared the money he earned between his mother and the poor.
Gerard could not join the Capuchin Order because of ill health but he was accepted by the Redemptorists as a lay brother. In his work with the Redemptorist community he served as sacristan, gardener, porter, cook and tailor.
During his life he was called the 'wonder worker' because so many miraculous things happened through his intercession. There are many miracles attributed to St. Gerard including restoring life to a young boy who had fallen from a high cliff.
Because of the miracles, God worked through Gerard's prayers with mothers. The mothers of Italy took Gerard to their hearts and made him their patron.
Gerard died in 1755 at the age of 29.
Gerard was beatified in Rome on January 29, 1893, by Pope Leo XIII. He was canonised, and became Saint Gerard Majella, less than twelve years later on December 11, 1904, by Pope Saint Pius X.
Saint Gerard followed the teachings of Jesus all his life and shared the Good News by what he said and how he lived his life. We look to Saint Gerard to be an example for us to follow.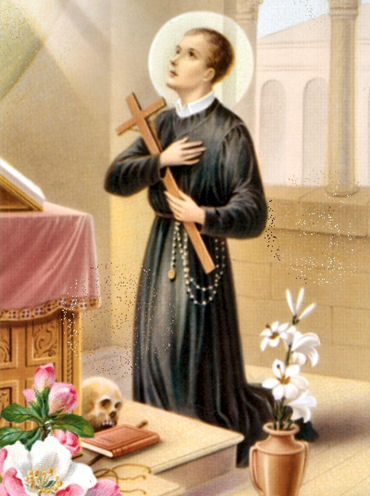 Almighty and Eternal God, we thank you for the gift of Saint Gerard, and the example of his life.
Because Saint Gerard always had complete faith and trust in you, you blessed him with great powers of help and healing. Through him, you showed your loving concern for all those who suffered or were in need.
You never failed to hear his prayer on their behalf.
Today, through Saint Gerard's powerful intercession, you continue to show your love for all those who place trust in you.
And so, Father, full of faith and confidence, and in thanksgiving for all the wonderful things you have done for us, we place ourselves before you today.
Through the intercession of Saint Gerard, hear our prayers and petitions, and if it is your holy will, grant them.
Amen.
Our mosaic of Saint Gerard
Mary appeared 18 times to 14 year old Bernadette Soubirous during 1858, in a grotto in Lourdes, France.
This is now a pilgrimage site for Catholics around the world.
Bernadette was canonised as a saint in 1933 by Pope Puix XI.
"I do not promise to make you happy in this life, but in the next." Our Lady of Lourdes to St Bernadette.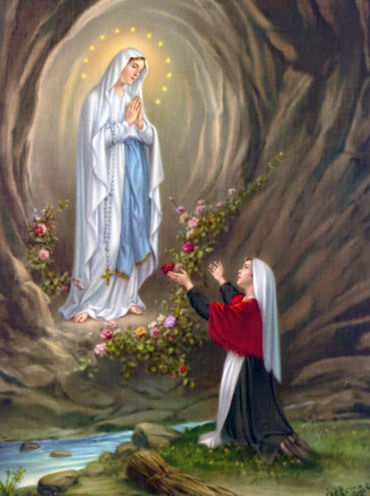 Saint Bernadette with Our Lady
Saint Jerome was born in 343 AD in Stridon. Today, it is known as Croatia or Slovenia.
He became well- known for his translation of the Bible from Greek/Hebrew to Latin.
He is the patron saint of libraries and his feast day is 30 September.
"When we pray we speak to God: but when we read God speaks to us."
Saint John Bosco was born on 16 August 1815 in Italy and died at the age of 72 years.
When he was just nine years old, he had the first of several vivid dreams that would influence his life.
He was canonized by Pope Puis XI on 1 April 1934. His feast day is 31 January.
"All my work began with a simple Hail Mary for Our Lady's help."
Saint Luke worked with St Paul travelling to Rome converting others to Christianity. St Luke wrote his gospels and wrote the 'Acts of the Apostles.'
He is known as the patron saint of artists, physicians and surgeons. He died at the ages of 84 in Boeotia.
His feast day takes place on 18 October.
Saint Padre Pio was born in 1887 in Pietrelicina, Italy. He was an Italian priest who was known for his piety and charity work.
Pope John Paul II canonized him on 16 June 2002.
We celebrate his feast day is on 23 September.
House Saints
Each pupil across the school is assigned to a House Saint. We place siblings in the same house. Pupils are given the opportunity to earn house points by:
Showing reverence in Mass.
Standing back/holding doors open for adults.
Showing good manners (please and thank you).
Lining up smartly and sensibly.
Walking sensibly and quietly around corridors on the left hand side.
Completing homework/reading diary/spellings/tables.
Showing good behaviour in lessons and assemblies.
Playing nicely with our friends and looking after them.
In house competitions (sports day).
Trying really hard with work.
As part of the rewards system within St. Gerard's, pupils are awarded housepoints for their respective house groups. Each week the House Captains have the important responsibility to collect the totals from each class. These are collated and totals are announced during Monday's assembly. The house that collects the most house points throughout a term are rewarded by having a 'non-uniform day'.
Saint Bernadette
Saint Bernadette was born in Lourdes, France.
As a child gathering firewood, the Virgin Mary appeared to her seventeen times. Bernadette was urged to pray for sinners and to build a chapel on the site.
The Virgin Mary asked Bernadette to dig into the mud and a spring developed. Many healings have been attributed to this water and it is still there today.
When she got older, Bernadette became a nun and passed away at age 35.
Saint Maximilian Kolbe
Saint Maximilian Kolbe was born in Poland in 1894. He was a Franciscan Friar. He was the founder of the 'Immaculata Movement', which is devoted to Our Lady.
While imprisoned in Auschwitz by the Nazis, ten men were chosen to die as a punishment for a prisoner escape.
He offered himself in place of a young husband and father. He was the last of the ten to die after enduring two weeks of starvation, thirst and neglect.
Saint Pope John Paul II
Pope John Paul was born in 1920 in Poland. He was a beloved Pope and served in this position for 26 years.
As Pope, he travelled to 129 countries spreading the word of God.
He was fluent in 13 different languages, was a fantastic goalkeeper and survived two assassination attempts.
Saint Teresa of Calcutta
Saint Teresa, known affectionately as 'Mother Teresa', was born in Macedonia in 1910.
When she was 12 years old, she knew that she would commit herself to a religious vocation so when she turned 18; Agnes left home and joined the Sisters of Loreto in Ireland.
In 1931, she became a nun and whilst in India on a retreat she realised what her true calling was: "I heard the call to give up all and follow Christ into the slums to serve him among the poorest of the poor."
Mother Teresa dedicated her life to her calling and continued her work with the poor for the rest of her life, leading the Missionaries of Charity until just months before her death on Sept 5, 1997.
Class Saints
All of our classes are dedicated to a particular saint, as follows:
Nursery: Saint Francis of Assisi
Reception: Saint Therese
Year 1: Saint Clare
Year 2: Saint Chad
Year 3: Saint Cecilia
Year 4: Saint Cuthbert
Year 5: Saint Stephen
Year 6: Saint Gerard
Nursery's display for St. Francis of Assisi
Year 5's dislpay for St. Stephen