St. Gerard's Catholic Primary School is a small school at the heart of its community.
We are in the Birmingham Diocese and have approximately 233 children on roll of which 26 have a full time nursery place. We are a one form entry school with up to 30 children in each class. We firmly believe that Christ is at the centre of all we do. The majority of our children are baptised Catholic. Demand for places continues to exceed capacity as the school is well respected and has a good reputation in the community.
Our school site offers a quiet area, a playground, which has marked lines for a football pitch, outdoor gym equipment, a gardening area, Katie's Garden for outdoor lessons and a Peace Garden for prayer and quiet reflection.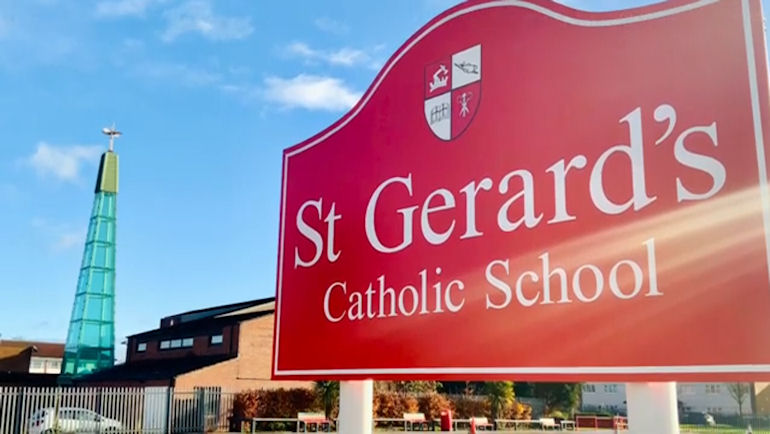 When a child begins their education with us they will most likely begin in our Nursery before moving into Reception. Our Early Years Unit offers a very wide variety of experiences and opportunities for pupils to express themselves and learn. Our pupils' personal, social and emotional development is key and our dedicated team of EYFS staff ensure pupils' needs are met every day. Child Initiated learning is a fundamental part of our EYFS practice and our pupils very quickly develop into confident, independent learners that are well prepared to move into Year 1.
At Key Stage 1 a high emphasis is placed on the development of reading as this is crucial to success in both writing and mathematics. We follow the Sound! Start Letters and Sounds programme to deliver our phonics and pupils achieve well by the end of Key Stage 1 and in the phonics screening check at the end of Year 1.
In Key Stage 2 we focus on developing our pupil's skills across the curriculum with a particular emphasis on English and Maths.
The school aims to achieve its mission through an inclusive curriculum that supports independent, creative learning for every child; a curriculum that is broad and challenging. It is also creative, fun and full of interesting and vibrant learning experiences for all our pupils. The curriculum is delivered through a variety of approaches, depending upon the subject being taught, the needs of the child and the aim of the lesson. The curriculum is continually evolving through experience and evaluation.
Our lunchtimes are packed full of fun activities for pupils to take part in and we have a high number of lunchtime and after school clubs on offer to enrich the learning experiences of our pupils.
St. Gerard's Primary School first opened on the Feast of Saint George, 23 April 1968, adjacent to St. Gerard's Catholic Church in Castle Vale.
The first Headteacher was Mr George who retired in 1992 and was replaced by Miss B Peel until 2005. Mr D Hird was Headteacher from 2005 to 2017, Mrs Buck to 2019 and Mr A Crehan to 2022. Our current Headteacher –Miss Crowley- joined us in April 2023.
For over fifty years, St. Gerard's School has been a place of love and learning inspired by St Gerard Majella and guided by the teachings of Jesus.
School Opening Hours
Our gates open at 8.40am with registration taking place from 8.50am. Please note you will be marked late if you arrive after this point. 
The school day ends at 3.20pm.