Introduction to Our Faith
Our Mission Statement
With Christ at our side and St. Gerard as our guide, we live, love, learn and pray together.
At St. Gerard's, our faith is an integral part of our school life. Reaching out and influencing every part of our school day and year. We are very proud to take time throughout the day to pause and reflect as a community in class and collectively in larger groups.
Here at St. Gerard's we are very grateful to have the parish right on our doorstep in the form of St. Gerard's Catholic Church and Community Centre. We work hard to develop links with the wider community and regularly attend the church as a whole school and as classes.
Over recent years we have supported a range of charities, particularly during our Lenten fundraising activities. We rotate the charities on an annual basis and we are very grateful for the great generosity that our families show during this time of year.
Charities that we have worked to support in the past include:
Macmillan
Air Ambulance
British Heart Foundation
Good Shepherd Appeal
Rwanda Appeal
Orphanage in Eretria
George Collier
John Taylor Memorial
Typically, we have one off fundraising events such as an odd shoe day, crazy hair day, fancy dress day etc. Working with local partners we have also previously carried out collections in supermarkets when 'bag packing'. Our biggest fundraising comes from our sponsored events. Children have also requested and organised fundraising events for charities close to their hearts including cake sales for Cystic Fibrosis and pyjama sports day for asthma charities in memory of a past pupil Katie Shugar.
We are an inclusive school that is always looking to build on our existing links with other faiths and denominations as we work with parents to develop caring, compassionate, faithful children ready and prepared for the wider world.
The society of St Vincent de Paul has been engaging with young people and education since it's earliest days. The 'Mini Vinnies' programme involves young children to help them make a contribution to the future of our society.
Mrs Hepburn leads Mini Vinnies at St Gerard's with children from KS1. During the school year they organise fundraising events such as; guess the jar of sweets, a plant sale, raffles and 'who can grow the tallest beanstalk.'
The monies raised are donated to various charities for the homeless, including St Chad's Sanctuary.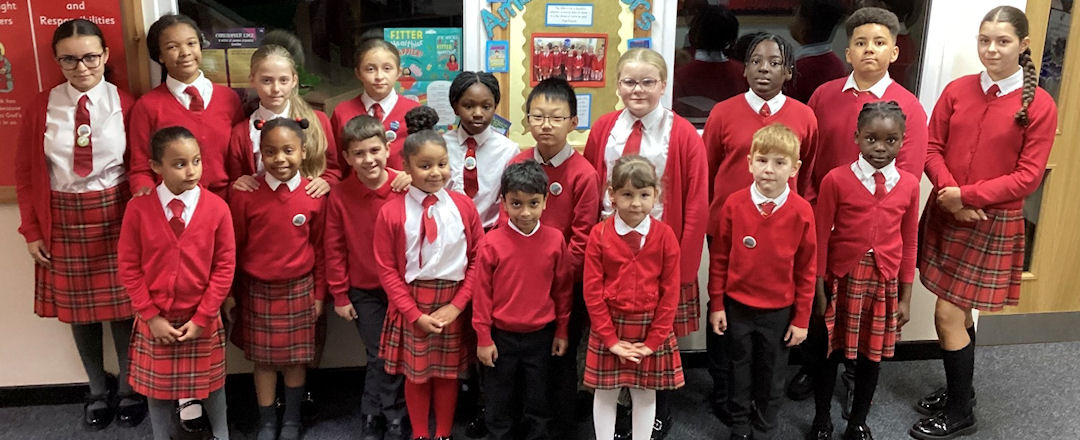 Our Mini Vinnies display board
​Working with the Community
We serve our parish and local community in many ways:
Liaising with our parish priest in preparation for the Sacraments of Reconciliation, First Holy Communion and Confirmation.
Holding special, reflective services and assemblies for the whole school community, especially during Advent and Holy Week.
Participating in parish masses (altar servers).
Carol concert (alternate years).
'Inspire' Workshops led by each class where Parents are invited to work alongside their child in school.
Congratulation Assemblies are held on a regular basis.
St. Gerard's Spiritual Council is formed at the beginning of each year with representatives from each of the Key Stage 2 classes.
World Faith Week
We have the opportunity to study different faiths across the year and especially during our World Faith week. This which gives us an opportunity to:
Learn about other faiths, beliefs and their customs.
Bring our communities closer together.
Celebrate the contribution that our faith groups make to society.
Understand how people of different faiths interact and cooperate with one another.
Each class has a particular focus, with the younger classes focusing on a particular festival:
Year 6 – Sikhism
Year 5 – Islam
Year 4 – Judaism
Year 3 – Hinduism
Year 2 – Buddhism
Year 1 – Christianity
Reception and Nursery – Catholic Life
Prayer Bags
To encourage families to pray together we use prayer bags which a child takes home on a rota basis. The prayer bags will help each family to come together to pray and know from the inside that Jesus Christ is with us always.
Cardinal Nichols wishes to encourage children to take the prayer bag home with them when it comes to their turn. He emphasised "You have a job to do. You are God's messengers. A messenger for Our Lord. In fact you are the first and the best of messengers. Take the lead. You have something to say and it is this, 'Here it is, it is our turn with the prayer bag, please can we sit down and pray together'."
Fr Veasey of the Diocesan Education Service added "Part of our educational task is to support parents as first teachers of their children in ways of faith and to appreciate that in the ordinary events of family life, the joys and struggles, we discover the presence and life of God."
Traditional Prayer
Our children learn these traditional prayers in each group throughout the school. We use them as part of our daily acts of collective worship.