There is always a lot going on at St. Gerard's, even outside of normal curriculum hours. We offer a variety of after school and lunchtime clubs. These are run by staff from school and external providers.
The clubs are offered to different year groups, and letters are sent home offering a chance to participate in these clubs. These include football, netball, Cafod, dance, choir, guitars, recorders and gymnastics. Some clubs are chargeable, details of the amount are always stated on the letter that goes out to parents.
The clubs are always very popular with the children and enjoyed by all.
Sports Clubs
We aim to offer children the opportunity to access a wide range of sports. Using coaches and expert teachers has enabled us to offer: Tri-golf, Football, Dodgeball, Basketball, Boxercise, Dance, Tennis and Athletics. We also have an expert gymnastics teacher, who provides high quality after school provision.
We aim for sport to be accessible to all children regardless of their background, gender or ability.
Arts
Whilst sport is important, it is just one part of our extra provision. We aim to nurture children's creativity and give them the space to express themselves.
We also offer: Art club, Recorder club, Choir and Guitar club.
Year 6 SATs Booster
Preparing Year 6 for their end of key stage tests is very important. Once a week the children stay after school to help prepare themselves for their SATs.
This club is not just about academic improvement but also about boosting confidence and helping the children realise their full potential.
CAFOD Club
Following Pope Francis' call to work together for the common good of our planet (Laudato Si) we have set up a Cafod Club.
This club is open to all classes in KS2. Their aim is to look at how we as a school can be more economical for the good of our planet. We aim to achieve our Live Simply award.
Children from Years 4, 5 and 6 have the opportunity to join Recorder Club, which runs at lunchtimes.
They practise hymns so they can accompany our singing during masses.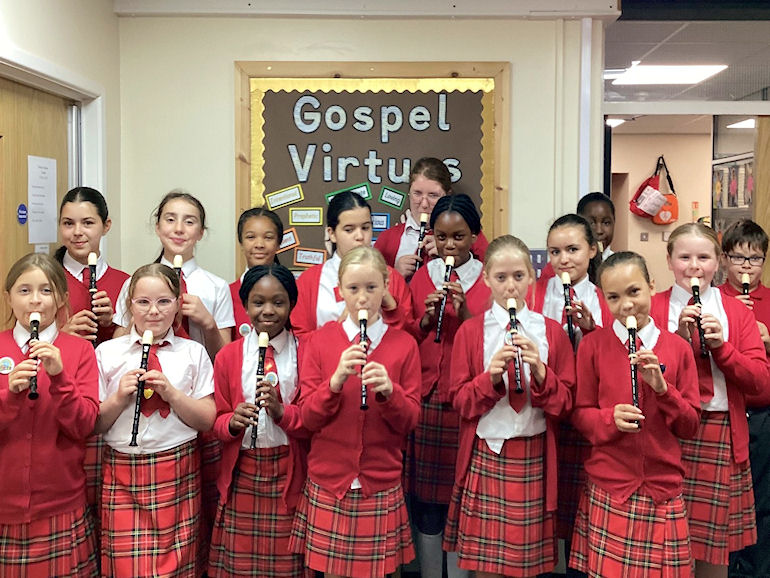 Some recorder club members